Total
25 minutes plus chilling
¾ c. smooth peanut (or other nut) butter
5 c. chow mein noodles (10 oz.)
Candy-coated chocolate eggs
1.
Line lg. rimmed baking sheet with waxed paper. In 4-qt saucepan, melt chocolate chips and nut butter on low, stirring constantly, about 5 min.
2.
Place chow mein noodles in lg. bowl. Pour chocolate mixture over noodles; stir well to coat.
3.
Onto prepared sheet, drop 2 Tbsp. mixture to form mound; repeat with remaining mixture. Shape into nests. Refrigerate until set, about 30 min.
4.
To serve, fill nests with chocolate eggs. Make 24 nests.
Each nest (without eggs)
About 170 cals, 4g protein, 18g carbs, 10g fat (4g salt), 2g fiber, 135mg sodium.
Total
50 minutes plus chilling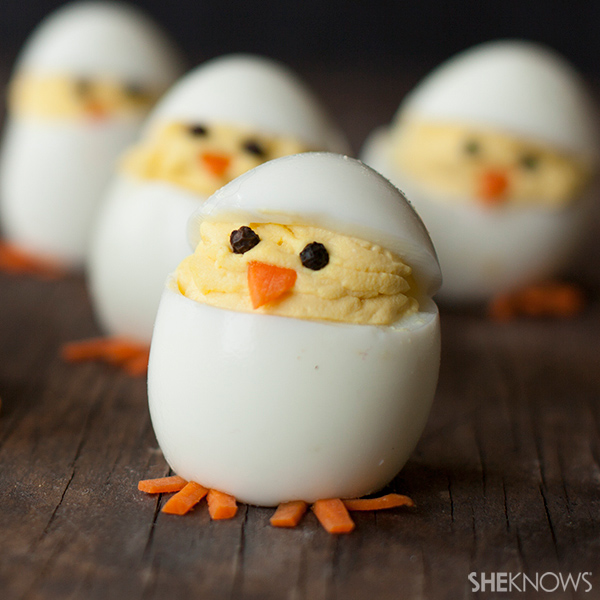 ¼ c. finely grated Parmesan cheese
1.
In 4-qt. saucepan, place eggs and enough water to cover. Heat to boiling on high, cover with lid; remove from heat. Let stand 12 min. Cool, then peel.
2.
Trim bottoms of eggs so they stand upright. Cut off top third of eggs, reserving egg white tops. Gently remove yolks; place in med. bowl. Mash with mayonnaise, Parmesan and mustard until smooth. Transfer to quart-size resealable plastic bag.
3.
Snip sm. hole in corner of plastic bag. Pipe enough yolk mixture into each egg white to fill cavity and come about 1 in. above rim.
4.
Cut carrots into very sm. triangles. Stud yolks with capers for eyes and carrots for beaks. Top with egg white tops. Refrigerate at least 1 hr. or up to 1 day.
5.
To serve, line platter with dill. Arrange chicks carefully on top.
Serve 12
About 155 cals, 1g protein, 1g carbs, 13g fat (3g salt), 190mg sodium.
BANANA PANCAKE
1.
In blender, puree 2 very ripe lg. bananas until smooth. Add 3 lg. eggs; pulse until combined. Pulse in ¾ c. self-rising flour until just incorporated.
2.
Lightly grease griddle or non-stick 12-in. skillet; heat on med. 1 min.
3.
Drop batter onto hot griddle as directed below. Cook pancakes 2 to 3 min. or until bubbles start to form and edges look dry. With spatula, turn; cook 1 to 2 min. more until puffy and underside is golden brown (keep warm on cookie sheet in 225˚F oven)
For each bunny: drop ¼ c. batter for body, 2 Tbsp. batter for head, 1 Tbsp. batter in oval shape for each foot and 1 Tbsp. batter in elongated shape for each ear. Arrange on plate.
4.
Toppings: Garnish with whipped cream and shredded coconut for tail and banana slices and mini chocolate chips for feet.
Serve 4
About 200 cals, 8g protein, 33g carbs, 4g fat (2g salt), 2g fiber, 335mg sodium.
Source: Good Housekeeping, April 2015